Before getting to carried away with the rabbit hole that is known as "Self Mastery", the first step is towards actually being successful with this is knowing it is for the long term.
And that scares the shit out of someone like me.
Being always the type of person who likes moving around, staying surface level on most things and not trusting my own devices, this step sets the foundation for the future.
So the plan is to:
Understand what Self Mastery means to me.
Define my core skills of Self Mastery.
Pick a core skill to improve.
Set a goal and plan for its success.
1. Understand what Self Mastery means to me
Starting a journey with no destination can be fun in certain circumstances, except for when you are lost.
In this case, being lost with yourself without knowing where you are going, only leads to constant circles and never ending pain.
So what does Self Mastery mean to me…
It means I live everyday with the values of:
Perseverance
Determination
Confidence
Self Respect
Resiliency
Hunger for Growth
These 6 core skills of my life is what I will measure my goal of Self Mastery against.
2. Define my Core Skills of Self Mastery
Perseverance: I will continue my pursuit, no matter the opposition.
Determination: I will stop at nothing to achieve my goal. 1
Confidence: I trust myself and my actions to perform at high standard.
Self Respect: I am living the life of my choosing and passion.
Resiliency: I get up from every hit with greater determination.
Hunger for Growth: I continue improving my mind, body and soul.
3. Pick a Core Skill to Improve
Next step is identifying which core skill is the biggest leverage point.
Which core skill that if you could control just a little bit better would result in exponential growth in success.
For me, this is definitely PERSEVERANCE.
In the past, I have always struggled with sticking to one area and really sticking through it until I have reached a level of success I was striving for.
I would self sabotage myself into thinking that the path I was in was not the right one for me, or that I wasn't any good at it, or worse, I was too good for it.
The sheer amount of 30 day challenges I have started versus actually finished keeps me in this circle of death of constantly starting something new but never finishing.
A friend of mine showed me this from Commitstrip.com which illustrates what I do to a T.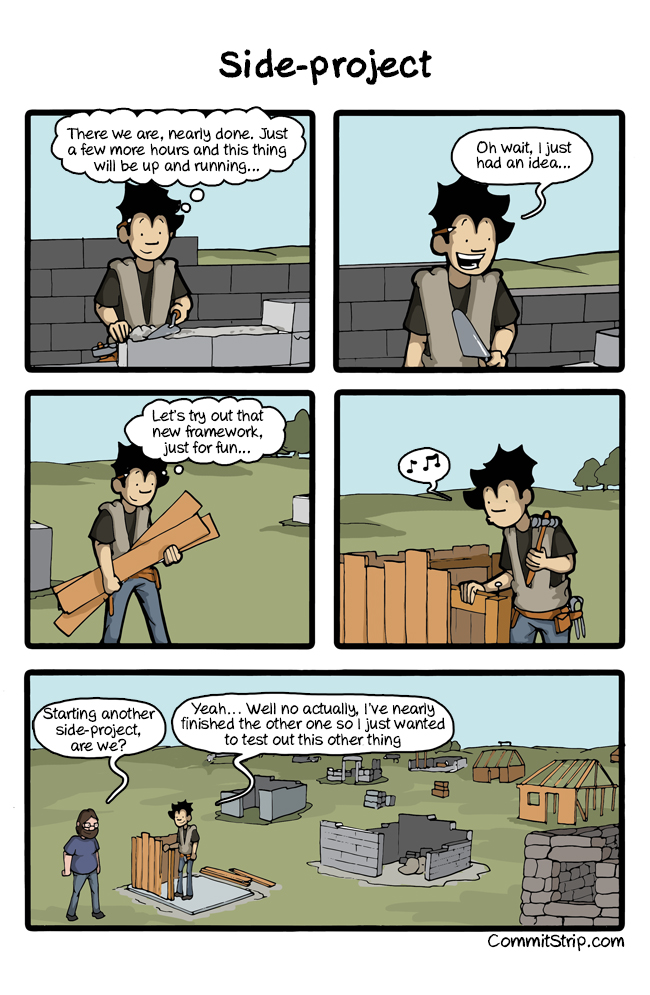 4. Set a Goal and Plan for it's success
With Perseverance being the core skill I will tackle on my journey, the initial thought, driven by my need to something big, was to get a new client for my brand new marketing consulting business every week…
Here is another example of my self sabotage – creating a goal that is unrealistic but drives my ego to think that I could potentially pull it off.
Instead, my goal and plan must be as simple as possible and for a long enough period of time so I can start believing in my perseverance.
This is why I have set a 45 day challenge (double the habit forming time of 21 days) of completing only 3 tasks towards this new business.
Which means, every night prior to going to bed, I need to determine what are the 3 most important tasks to complete the following day and persevere through completing them.
Here is to the first day of Perseverance!
thanks to Casey Neistat's video